Don't Miss The Cheap Party Buses Experience!
There is simply nothing like celebrating in a party bus. We've heard time and time again that our party bus rental is the perfect atmosphere for friends to celebrate their birthday, for the guys to throw their bachelor party, or for an exciting girl's night out. Although, our party limos and buses are used for numerous occasions, these are just a few favourites.
Become a fan of the Party Bus Hire? Why? There are many reasons our Party Buses For Rent and Limo Bus Service is the perfect solution for a variety of occasions.
First off, you can be sure that our skilled professional drivers are responsible. They are happy to be your designated driver for the evening and can get you where you are going safely and smoothly.
Second, when you ride with us, you ride within a safe and friendly environment. Our Cheap Party Bus Service vehicles are well taken care of and go through routine safety inspections and our drivers attend driver safety classes. We provide our clients and their guests an atmosphere where they feel like they can relax and have fun in.
Our third point focuses all the party bus perks! It's almost like they we're created to mimic a dance club. Inside you will find flat screen TV's, premium stereo equipment with subwoofers, a dance floor, dance pole, and a full bar.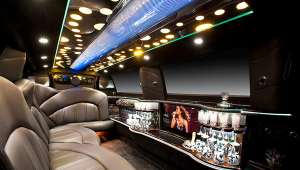 If you are looking for a Cheap Party Bus Rental Near Me, well look no further. While our party buses are inexpensive, there is nothing cheap-looking about them! Our Party Bus Services high end buses are filled with modern amenities and luxuries you and your guests will enjoy. You'll also find that we keep our late model vehicles in top shape, with designer interior that's detailed after every use.
Great Party Buses For Rent are only a call away. You can also reserve online with the simple click of a button. Need special accommodations?
Talk to our friendly staff. We, Cheap Party Bus gladly provide the environment you need for your ideal evening. Let us know if there are destinations you would like to visit throughout the evening, or give us your itinerary. We're on board!
Next time you start to search "
Party Bus Near Me,
" remember Chicago Limousine Service. We go above and beyond for both our new clients and patrons alike. Get Instant Party Bus Rental Prices – (312) 757-4634