No matter why you are coming to Chicago. We have the Chicago Limousine Rental you need!
Offering short notice no-wait pickups, quick and easy transfers, meet & greets. Helpful luggage carry & drivers who know the area.
We believe Chicago Airport Limousine Rental should be something you can count on. After all one missed flight can turn your world upside down, missed meetings can turn into botched deals. You could miss your little girl's birthday party, or get stuck in a city where you don't want to be.
That's why we think there is no exception to being late, and we stand by that. In fact, there's a lot that we do to make sure we will always arrive on-time, or even early for your peace of mind. We pay attention to what's going on so you don't have too. Is there events in the area that could delay your airport transfer? What if your plane is due to arrive early? It looks like it might rain. Will you get there on time? These are all questions that we have already addressed, and do so every day and for every ride.
Best Airport Limo Service in Chicago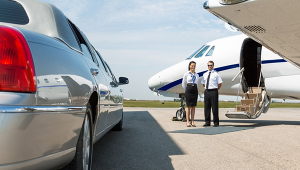 Keeping an eye on your flight by using reliable flight tracking apps, knowing what is happening in the local area that could delay us in route. Or knowing when to expect adverse weather are just a few of the things we do to make sure you arrive on-time and that your Limo Service to Chicago Airport experience is an excellent one.
If your business is looking for Limousine Service to Chicago Airport  that you can depend on—stop the search. Our Chicago Airport Limo Rentals professional chauffeurs have excellent driving skills, clean backgrounds. And we are passionate about providing exceptional, on-time service. Our Airport Limos drivers are experienced with shuttle driving and can be relied on to be helpful and accommodating to your business's needs. We're ready to meet special requirements, follow the schedule that you need.  We provide a comfortable environment for your guests. Also know that all of our vehicles are well-maintained. So your guests will never end up without a ride.
Executive Passenger Service Is Just One Reservation Away
While arty buses are awesome in their own right, not all customers long for a party on wheels. And many choose a less extravagant mode of transport. For those types of customers, Chicago Airport Limousine Service might be the best choice. You can make a quick reservation by phone or online and have you and your business partners, and customers arrive on time every time. You can even make an arrangement. So the cars wait for you even before the time of departure, just to be sure.
What Sets Them Apart
Now, Airport Limo Rental Chicago hasn't risen to the top for no reason so let's try to go over some things that set them apart from their competitors. First of all, all of the chauffeurs that will be accompanying you on your journey are well trained and licensed professionals, each with several years of experience in passenger transportation. They all undergo regular drug tests so you can rest assured that you will be in good hands.
Another thing that has helped put their name on the market is the fact that you can always and easily get in touch with their service. You can do so by calling them via phone, or by visiting their website. Once online you can take your time and have a look at their impressive fleet. Get a free quote or simply fill out a short online reservation form which should not take you more than a few minutes.
Chicago Airport Limo Service – Your Perfect Match Whenever You Need A Ride
If you are about to land in our lovely city, and yet want to get yourself a convenient Cheap Airport Limo Service Chicago that can meet your tight schedule no matter of anything. We have good news for you! Best Airport Limo Service in Chicago is answering on all your driving needs, therefore do not hesitate to check yourself why are we the best Airport Limo Rental Chicago! Don't miss the opportunity to experience one of the most reliable Chicago Limo Service s in the country.
Chicago Airport Limousine Services That Comes Just in Time for You
Ok, you have just landed on Chicago airport and you desperately seek for a quality ride that can fulfill all your driving requests? Don't worry, Chicago Airport Limo Service really is your perfect match. Therefore your drive with us should be nothing but an enjoyable experience. And what's even greater, we will wait for you whenever you need. Since we provide frequent airport service. You should know that we possess only the best vehicles on which you can count on.
That means that you and your company will only be able to have a great time on our back-seat while traveling. Our limousines also have multiple purposes. So if you need your luxury ride for any specific occasion. We'll be there for you as well. If you are about to get married, have a prom or a bachelor party, and. You want to arrange your classy drive just for that purpose. Limo to Chicago Airport will make sure that your day to remember goes just fine and with style. Your four-wheel wedding is for sure a thing worth remembering, that's why people trust our Chicago Airport Limo Services. That's why we are one of the most reliable Limo Service in the country.
Your Safety is Our Very First Goal
Except for the fact that we are recognized by our clients for our quality service. We always like to emphasize that we care about our customer's safety the most. Our Chicago Airport Limousine Service's drivers are all professionals who have a lot of driving experience. Therefore their main effort is to get you safe and sound wherever you intend to go. Since we provide 24/7 customer support. You can book your favorite drive anytime you want. You can do that by calling 571-257-3646, or if you are more a writing type of person. You can send us an email at contact@chicagolimousinerentals.com. We'll be nothing but delighted to arrange your classy ride!
So, if you seek a proper Limo Service that will be there for you anytime you want. Chicago Airport Limousine should be your very first choice! 
We are here for airport transportation all hours 365 days a year. We are all ears for special requests and are happy to be accommodating. Providing service that you can count on—anytime you need us. Get Instant price quote  – (312) 757-4634