No matter why you are coming to Chicago, we have the Chicago Limousine Rental and Airport Limousine Service you need!
Offering short notice no-wait pickups, quick and easy transfers, meet and greets, helpful luggage carry, and drivers who know the area.
We believe Airport Transportation should be something you can count on, after all one missed flight can turn your world upside down, missed meetings can turn into botched deals, you could miss your little girl's birthday party, or get stuck in a city where you don't want to be. That's why we think there is no exception to being late, and we stand by that. In fact, there's a lot that we do to make sure we will always arrive on-time, or even early for your peace of mind.
We pay attention to what's going on so you don't have too. Is there events in the area that could delay your airport transfer? What if your plane is due to arrive early? It looks like it might rain, will you get there on time? These are all questions that we have already addressed, and do so every day and for every ride.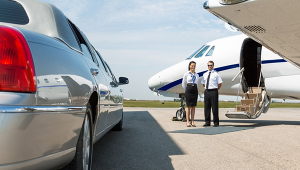 Keeping an eye on your flight by using reliable flight tracking apps, knowing what is happening in the local area that could delay us in route, or knowing when to expect adverse weather are just a few of the things we do to make sure you arrive on-time and that your Airport Car Service experience is an excellent one.
If your business is looking for Airport Shuttle Service that you can depend on—stop the search. Our professional chauffeurs have excellent driving skills, clean backgrounds, and are passionate about providing exceptional, on-time service. Our Airport Limos drivers are experienced with shuttle driving and can be relied on to be helpful and accommodating to your business's needs. We're ready to meet special requirements, follow the schedule that you need, and provide a comfortable environment for your guests. Also know that all of our vehicles are well-maintained, so your guests will never end up without a ride.
We are here for airport transportation all hours 365 days a year. We are all ears for special requests and are happy to be accommodating. Providing service that you can count on—anytime you need us. Get Instant price quote  – (312) 757-4634